Details

Written by

Super User

Category: Lovely Disabled Home
Hits: 987
There are three (3) different way to make a donation. You can use Offline Payment, Touch N Go eWallet (or) Maybank QR Pay.
i) Offline Payment
ii) TouchNGo eWallet
iii) Maybank QR Pay
Remarks:
We are registered with tax-exempt status in Malaysia.
Please email bank slip (indicating "Donation", donor's full name, IC number/ business number & full address ) to

This email address is being protected from spambots. You need JavaScript enabled to view it.

to be eligible for tax exemption receipt according to Subseksyen 44(6) Akta Cukai Pendapatan 1967.
We will issue normal receipt (not tax exempt) if incomplete details are given. No tax exempt receipt can be issued after we have issued a normal receipt due to incomplete details.
Our Bank Account
Payable : Lovely Disabled Home
Bank Account : Public Bank Berhad 3134 5487 35
---
Please Use One Of The Payment Method Below:
TouchNGo eWallet
We are available Touch'n Go e-wallet. You can scan the QR code below to make a donation.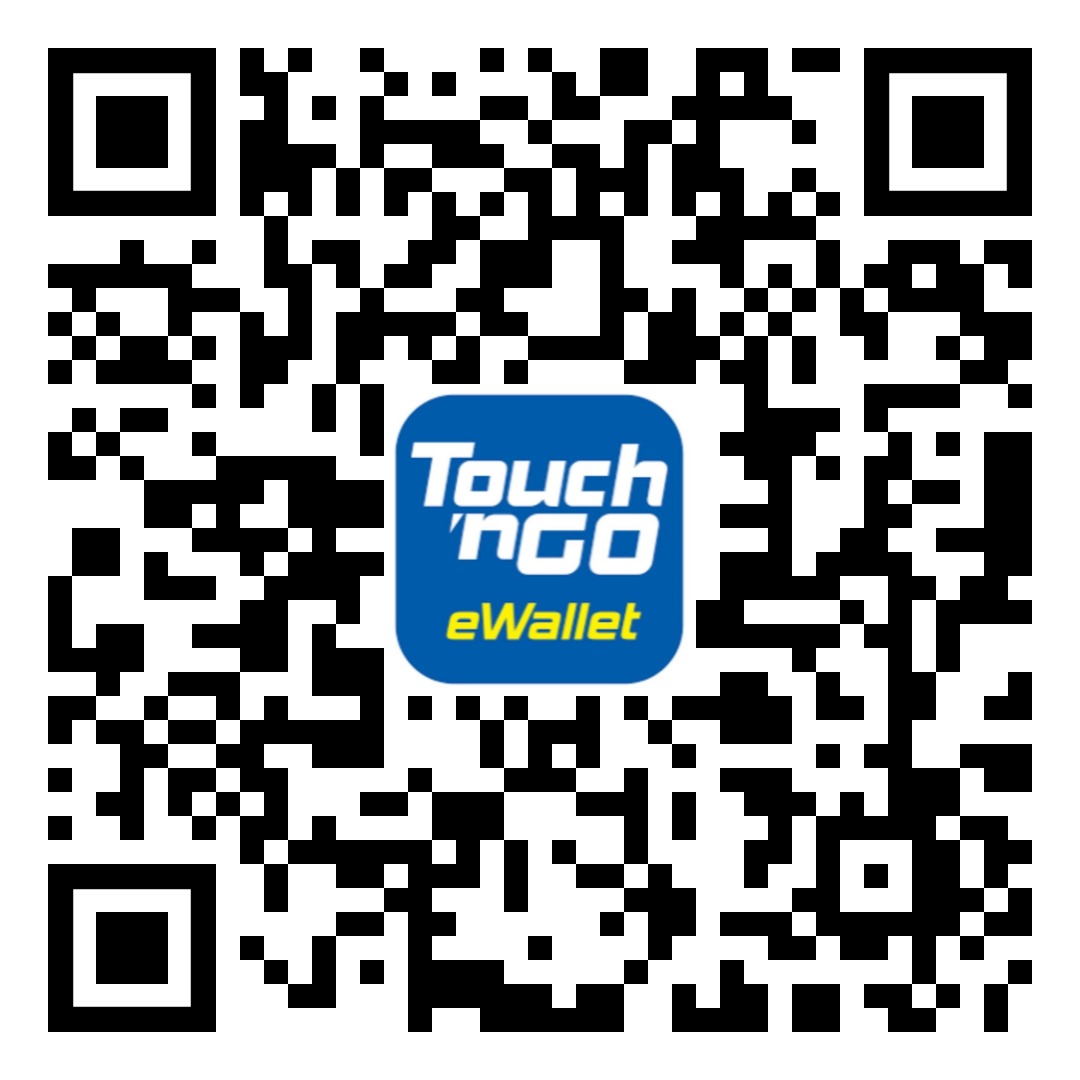 Once you have made the payment, Please email bank slip (indicating "Donation", donor's full name, IC number/ business number & full address ) to This email address is being protected from spambots. You need JavaScript enabled to view it. to be eligible for tax exemption receipt according to Subseksyen 44(6) Akta Cukai Pendapatan 1967.
Maybank QR Pay
We are available Maybank QR Pay. You can scan the QR code below to make a donation.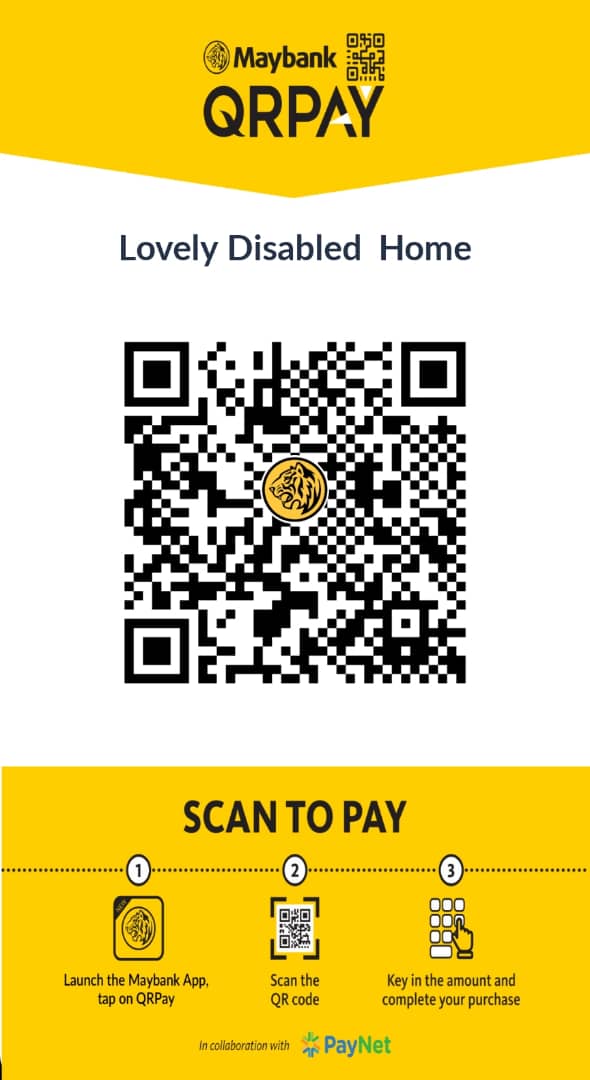 Once you have made the payment, Please email bank slip (indicating "Donation", donor's full name, IC number/ business number & full address ) to This email address is being protected from spambots. You need JavaScript enabled to view it. to be eligible for tax exemption receipt according to Subseksyen 44(6) Akta Cukai Pendapatan 1967.
Details

Written by

Super User

Category: Lovely Disabled Home
Hits: 336
For offline payment, please send your donation payment to our bank account as follow :
Step 1) Donation By Offline Payment
Account 1
Payable : Lovely Disabled Home
Bank Account : Public Bank Berhad 3134 5487 35
(OR)
Account 2 (CP Home)
Payable : Lovely Disabled Home
Bank Account : Public Bank Berhad 3812 1526 32
Step 2) Upload Donation Bank In Slip
Once you have make the donation, please upload to the form below:

If you have any questions, please email to This email address is being protected from spambots. You need JavaScript enabled to view it.
We are looking forward to receiving your payment. Thank you.
Details

Written by

Lovely Disabled Home

Category: Lovely Disabled Home
Hits: 330
国际残疾人日
爱·关怀之家(LDH) 是一所非政府组织,其成立的愿景是为身体和/或智能障碍以及脑性麻痹患者提供一个关爱自立场所。
LDH 成立于 2005 年 11 月,此后一直为 18 岁及以上的残障人士提供就业和无障碍工作场所。 LDH 目前经营着一所回收中心,并管理着两间工作坊和一间脑麻之家。
2021 年 12 月 3 日国际残疾人日,爱·关怀之家(LDH)有幸得与Kawasaki Gas Turbine Asia (KGA)一起庆祝。Ikematsu Seishi 先生、Donna Lee 女士、Sho Danjo先生、Mohd Asyriq先生和团队成员亲临中心,并提供了美味的午餐。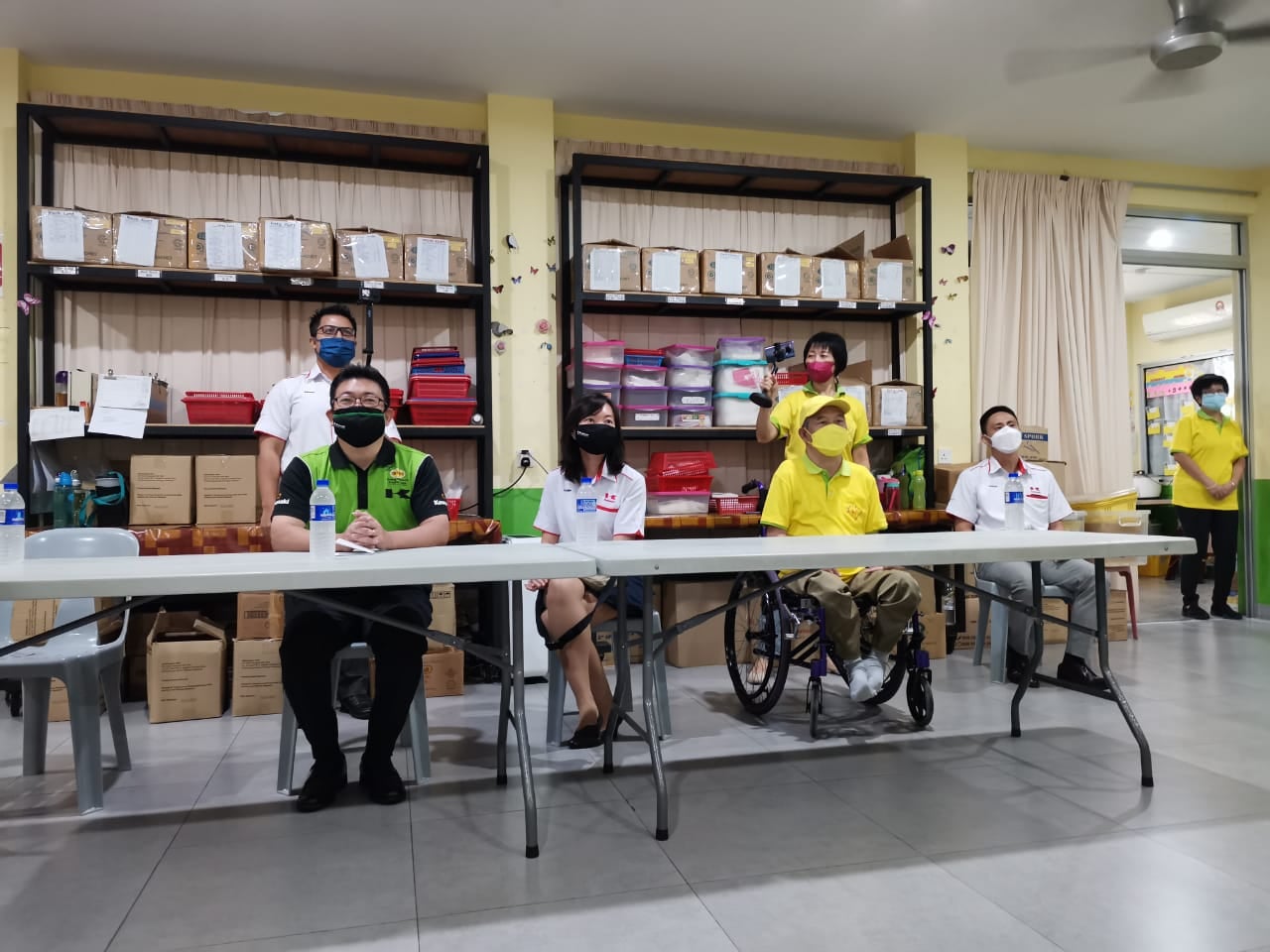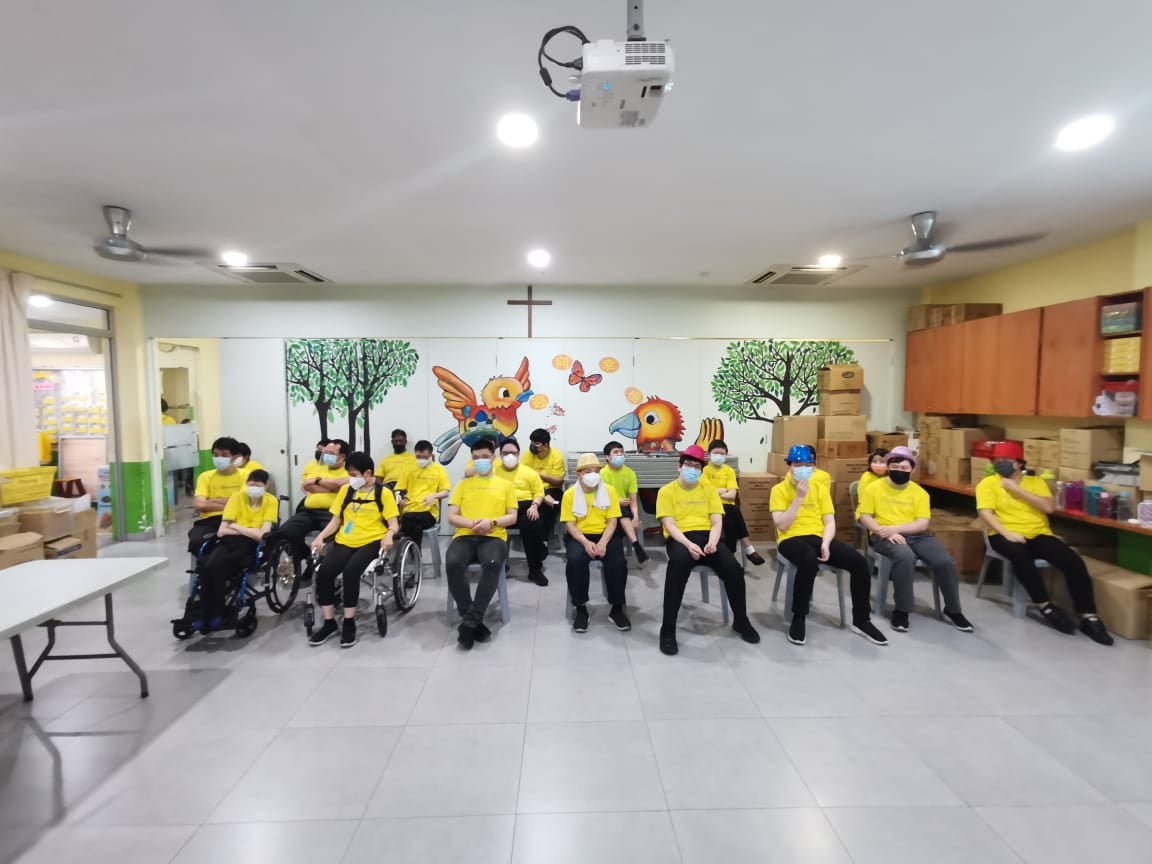 Kawasaki Gas Turbine Asia (KGA) 负起社会责任,关心残疾领域。在仔细评估爱关怀之家后,慷慨捐献马币四十千予爱关怀之家(LDH)。Ikematsu Seishi先生和 Donna Lee女士感谢 LDH 团队的奉献,并鼓励大家继续努力。
林国强感激KGA高级管理团队:"Kawasaki (Gas Turbine Asia)对于社会需求的关注以及在寻找合适的非政府组织,谨慎评估LDH的整个过程中,完全彰显了正直美德和感恩精神。
爱·关怀之家(LDH)符合捐献资格,倍感肯定和深受激励。我们相信,只有真爱和关怀才能消除人与人之间的障碍,并在黑暗时期点燃希望。我们祈祷,在未来的日子里,更多的企业暨公司愿跨越极限与残障人士和社区并肩前进。
"民间有真爱,世间无障碍。"林国强如斯说道。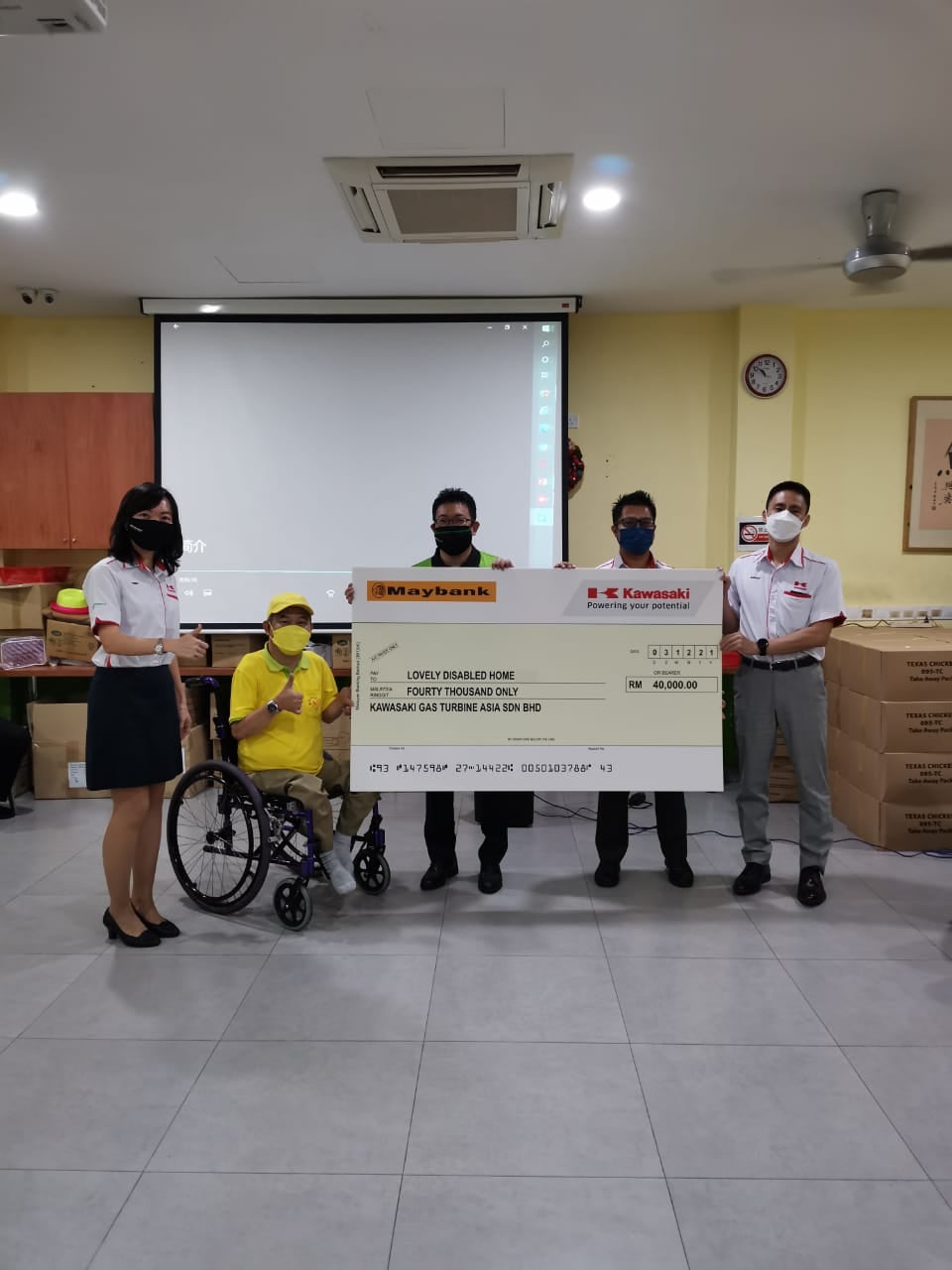 LDH 工作坊成员为来宾表演了简单及温馨的舞蹈和歌曲,以表达欢迎和感激之情。编舞虽然很简单,却是来自成员们持之以恒的日常练习,期待为KGA 团队带来窝心的时光。
Details

Written by

Lovely Disabled Home

Category: Lovely Disabled Home
Hits: 513
International Day of Persons with Disabilities
3rd December 2021
Lovely Disabled Home (LDH) is an NGO founded with the vision to provide a place to care for persons with physical and/or mental disabilities as well as spastic people.
Founded in November 2005, LDH has since then been providing individuals who are 18-year-old and above with employments and hindrance-free workplaces. LDH is currently operating a recycling centre and managing two workshops in addition to a cerebral palsy home.
This year the organisation was privileged to have Kawasaki Gas Turbine Asia (KGA) celebrating with them. Ikematsu Seishi-san, the Managing Director together with their senior managerial personnel from the Sales & Marketing Department—Ms Donna Lee (General Manager), Sho Danjo-san (Deputy General Manager), En Mohd Asyriq (Sales & Application Engineer), and team members were present at the LDH headquarter.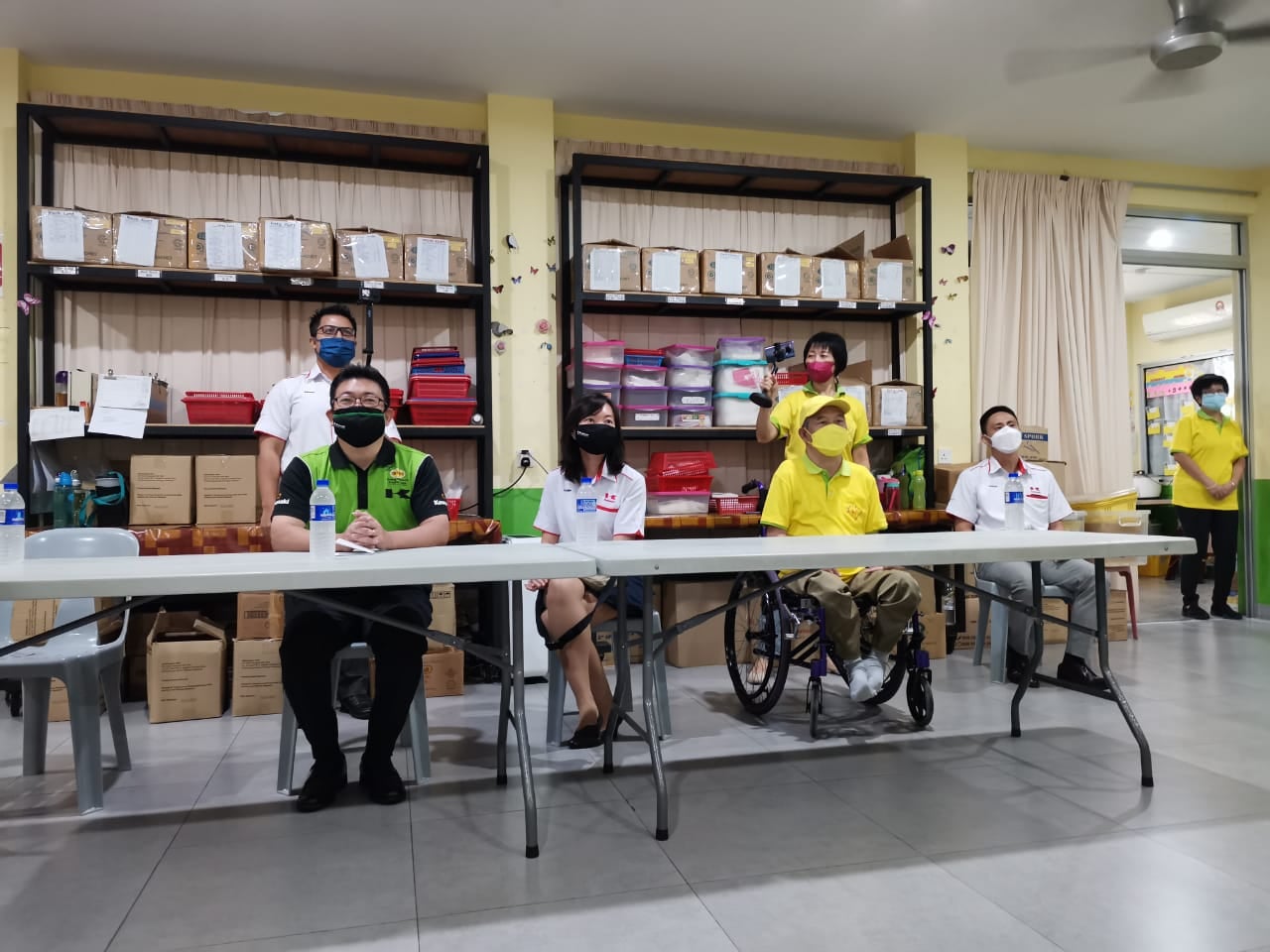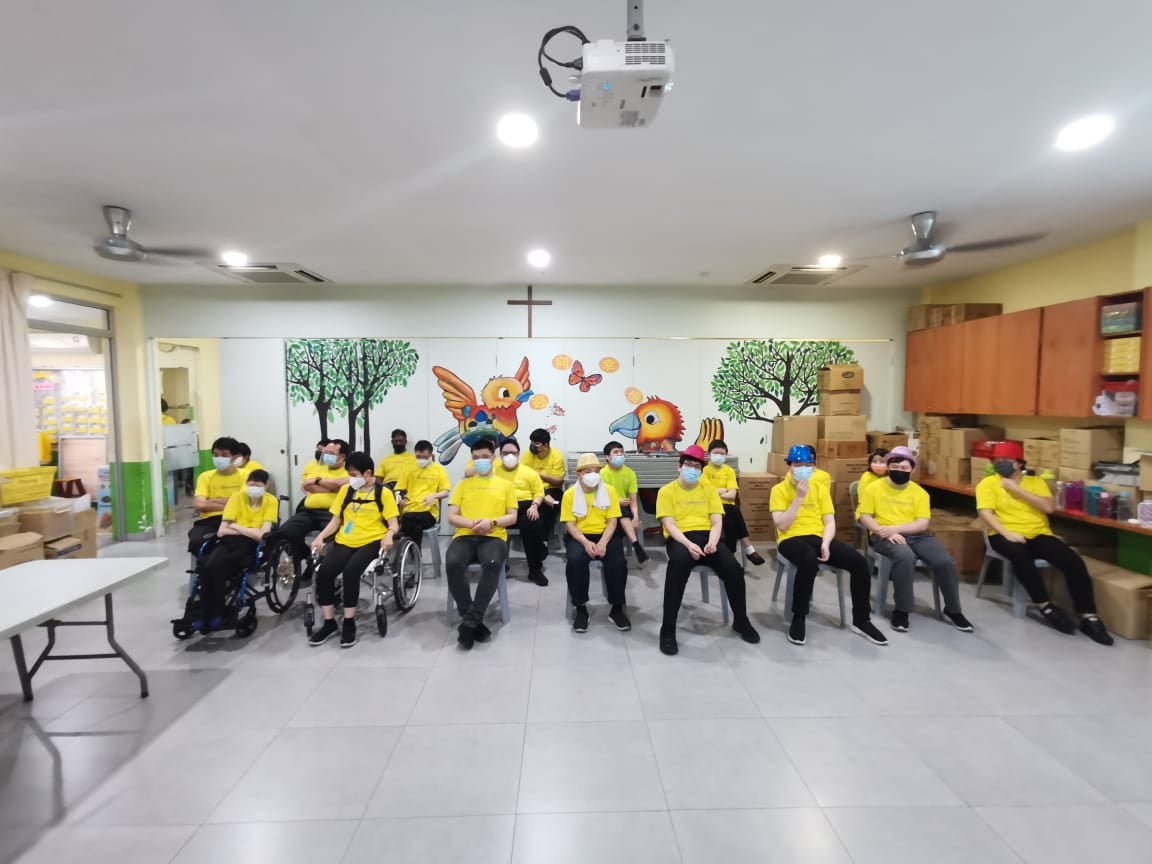 The KGA team presented a mock cheque that amounted to RM40000 to Mr Lum Kok Kiang, the Founder of Lovely Disabled Home. Both Ikematsu Seishi-san and Ms Donna Lee thanked LDH team for their dedication and encouraged all to keep up the good work.
Kawasaki Gas Turbine Asia (KGA) indeed is taking the lead to show care towards the community with disabilities. The measure and length the company has taken in carrying out her corporate social responsibility such as careful evaluation on the organisation, is demonstrating excellent exemplary leadership.
Mr Lum Kok Kiang, the Founder of Lovely Disabled Home thanked the Senior Managerial Team with the statement: 'Kawasaki (Gas Turbine Asia) as a big company would care to look into the needs of the society, search out the right NGO and then go through a thorough assessment of LDH before lavishing a generous contribution on the organisation, has depicted the virtue of integrity and the spirit of thanksgiving to our society at large. We, LDH being the chosen one are feeling affirmed and motivated. We believe that only genuine love and care would bring down barriers among peoples and spark hope in times of darkness. And we pray, in days to come, more corporates would remember the community with disabilities and come celebrate with us.'
'True Love breaks down barriers and disabilities.' Mr Lum added.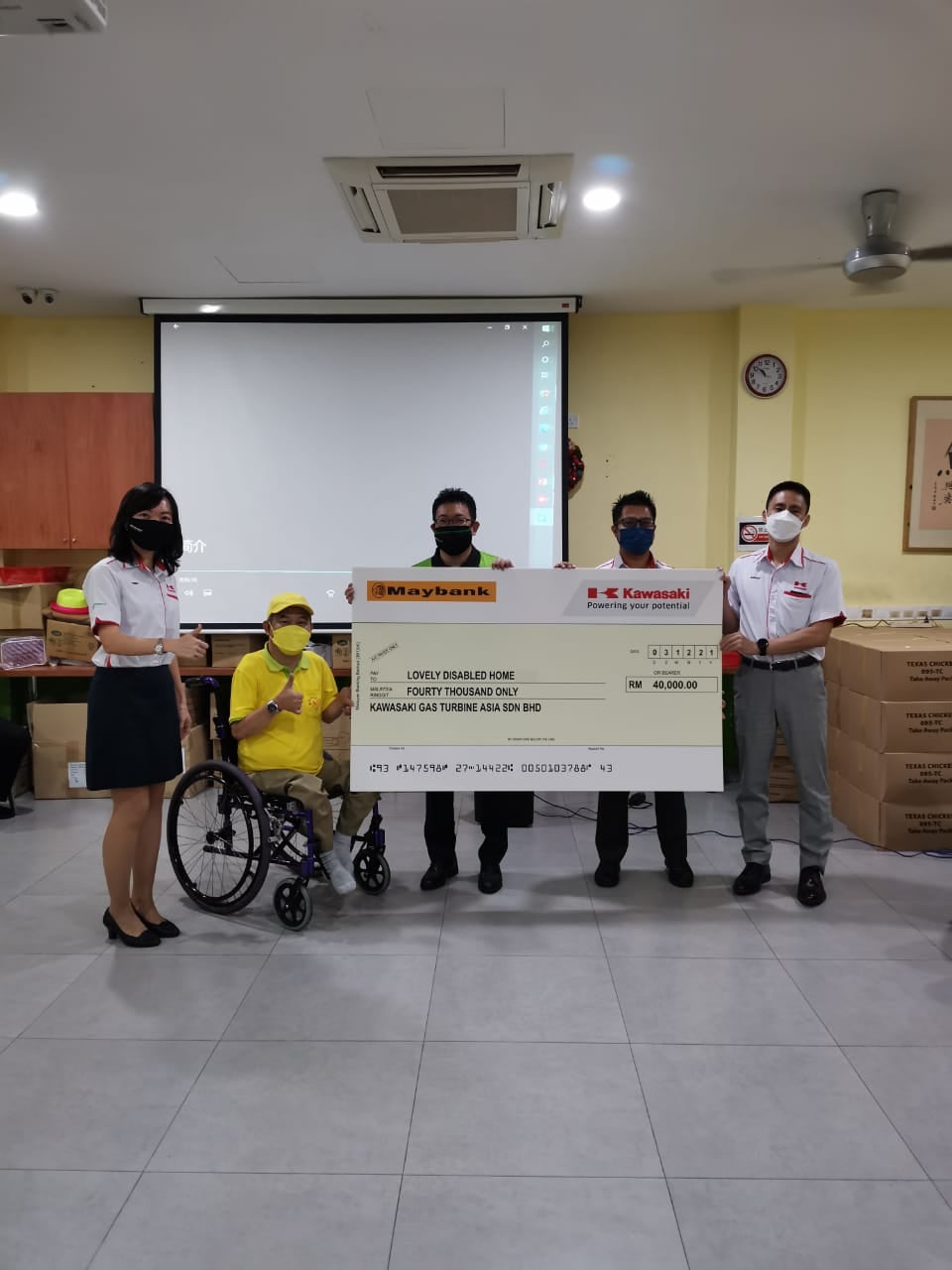 LDH workshop members performed a simple but heartful dance and song for their guests as an expression of welcome and gratitude. Although the choreography was very much simple yet it came from the daily practice of the members. Hopefully, the KGA team would feel blessed in return for their delicious lunch and generous financial contribution.
Lovely Disabled Home
Tel: +603-7873 9622
Address: No.1, Jalan SS2/5, 47300 Petaling Jaya, Selangor
Details

Written by

Lovely Disabled Home

Category: Lovely Disabled Home
Hits: 1104
Teresa Life-changing Experience
Against all odds
A life-changing experience for Teresa after 10 years at LDH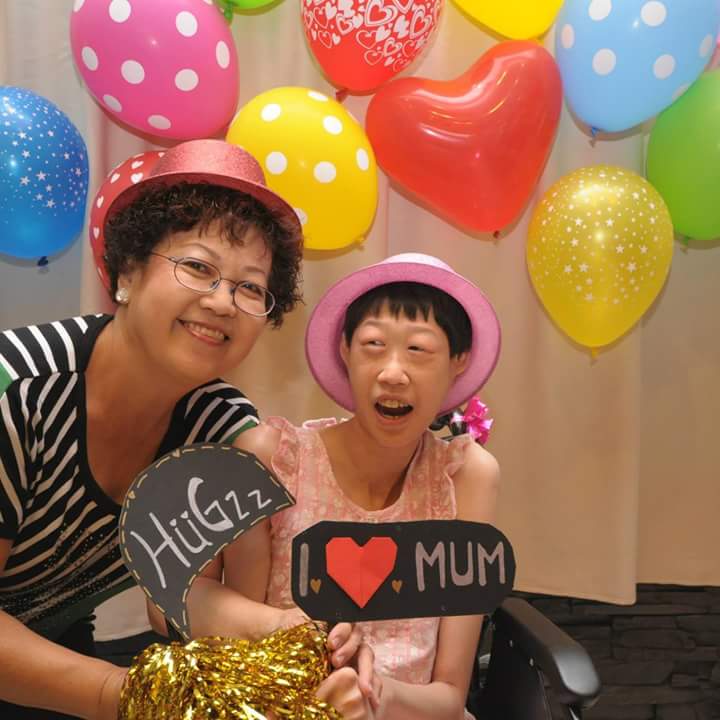 How time flies so fast, in the blink of an eye, my daughter Teresa Chan has worked at Lovely Disabled Home (LDH) workshop for 10 years.
Teresa is 36 years old now. She is a cerebral palsy child with multiple disabilities. She needs a wheelchair, having learning disabilities, and even needs help to go to the toilet.
I remember before she was 25, she went to a special school to learn life skills. The teacher there told us that Teresa's learning progress had reached the limit, due to her poor learning ability, and she no longer required to attend classes.
The message caught me in a bind as a parent as I don't know what to do with her future.
As parents, we can only accept her learning disability and continue to love and care for her at home.
But the turning point came in 2007, when we met with Mr. Lum Kok Kiang, LDH founder, as we were looking for a suitable wheelchair for Teresa.
"I think Teresa is capable of learning", Mr. Lum told us.
That encouragement inspired us to place her at LDH workshop.
At the workshop, Teresa found a new meaning in her life. It's incredible!
In the eyes of some people (including me), it is almost impossible for Teresa to carry out a simple work task. But she performed the impossible.
Teresa through dedicated training at the workshop was able to fold old newspapers. It was amazing to see her opening the old newspapers, one by one, and stack them in the wooden trays.
What surprised me most was her ability to crumple old newspapers into a ball.
I witnessed her new learning ability. In 2010, Teresa joined the LDH workshop and became one of the happy working members of the organization until today.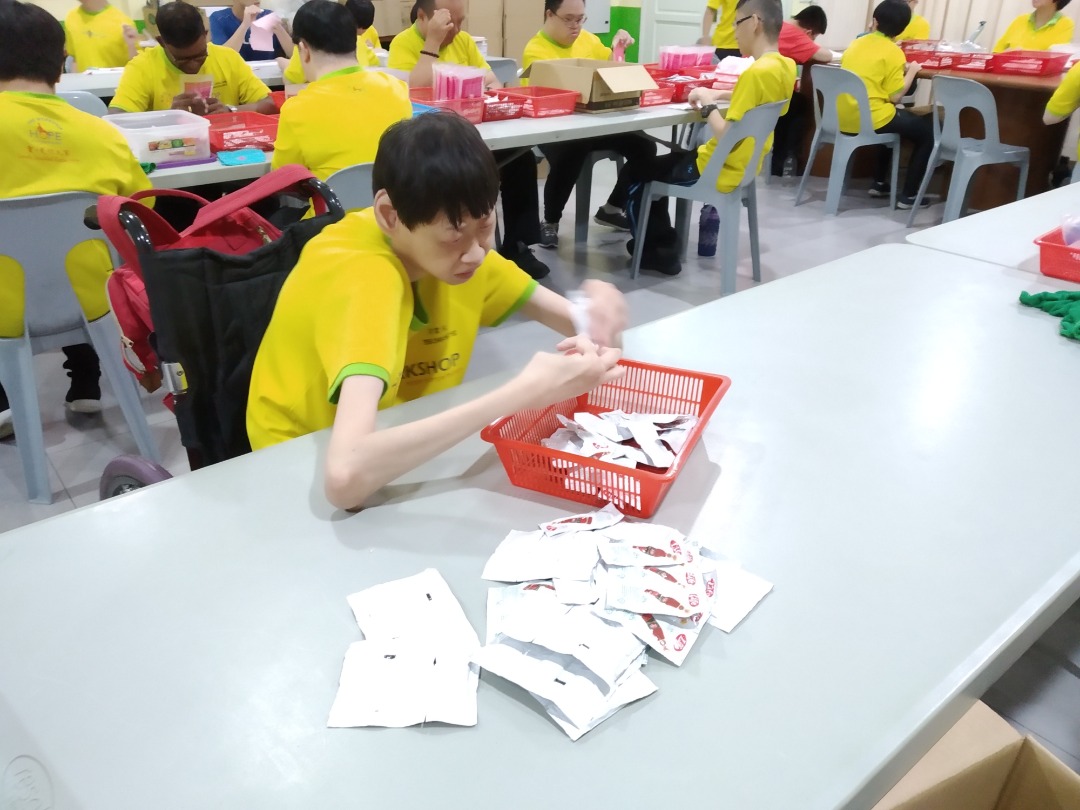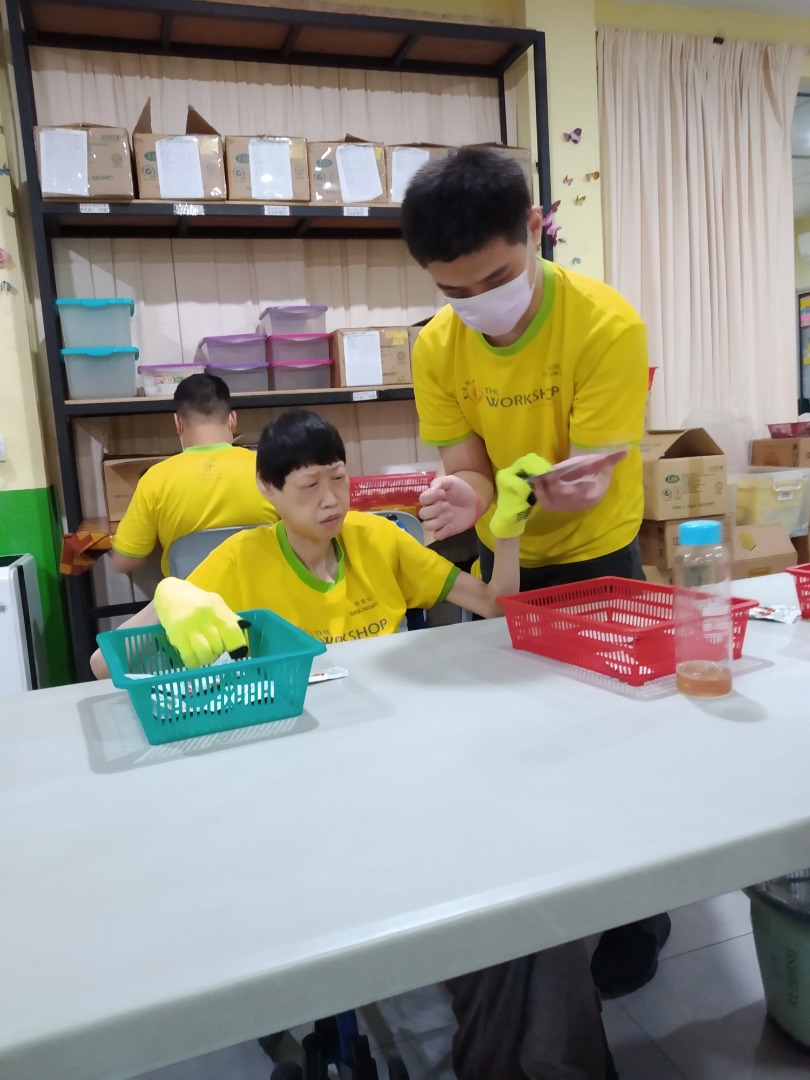 In the past 10 years, Teresa learns to accept the love and care of teachers and members of LDH.
Very often you could see her smiles, displaying her confidence.
Working at LDH has helped to calm her down, putting her temper and tantrums under control.
The confidence promotes her learning progress and skills, like packing the chili sauce in small packages, under the guidance of the LDH teachers.
Teresa is happy and ever ready to learn new tasks.
At LDH, the organization always welcome special children to work here, allowing them to seek happiness and more meaningful life.
For more information, please visit www.lovelydisabledhome.com contact Lovely Disabled Home at 03-7873 9622.
Because of love, they go through the challenge together
Kin Mun, 23 years old, joined Lovely Disabled Home (LDH) in 2020. He has been diagnosed with ADHD and needs to be reminded often to control himself and not let his body shake. Although his communication skills are limited, but he is very cheerful.
Before joined LDH, Kin Mun did not work and used to always stroll around the shopping mall. His parents were worried about his situation and they wanted to find a way to solve this situation, this is why Kin Mun join LDH.
Kin Mun was very happy when he first joined this workshop. He took the MRT from Cheras to Pasar Seni and then transfer to LRT to Ara Damansara, all alone by himself.
However, after a week, Kin Mun started to think many ways to skip work. He would go back home or hang out in shopping mall alone after his mother sent him to MRT station. He also complained that the workshop location is far away from home as a reason to refuse to work.
After one month, the situation did not improve at all, until his father decided to personally send Kin Mun to the workshop from Cheras to Ara Damansara every day. His parents also used Kin Mun's hobby – shopping as a reward to encourage him to work. In order to send Kin Mun to work, his dad apply late to work with his boss because his working place is at Puchong.
At the beginning of this plan, Kin Mun still refusing to get up from bed every morning and run out of house because do not want to send by his dad. His parents feel helpless and angry because their sacrifices did not get the expected response. However, they did not give up on trying. His parents will ask Kin Mun to choose where he would like to have his breakfast before send him to work.
At workshop, teachers would let Kin Mun try different kind of tasks to arouse his interest, and involve members in activities. After Kim Mun successfully reached his promise to work for a week, teachers held a pizza party as reward to encourage him.
With the efforts of parents and workshop teacher, Kin Mun attendance rate has improved. Now, teacher can see him standing in front of the door of workshop to wait for work. Kin Mun becomes more cheerful and learns to communicate with teacher. Sometimes teacher did not understand what he tried to say, he would type on his mobile phone to communicate. Also, he learns to greet other parents, ask about absent friends, and excited for music class and activities class which hold on every Monday and Thursday.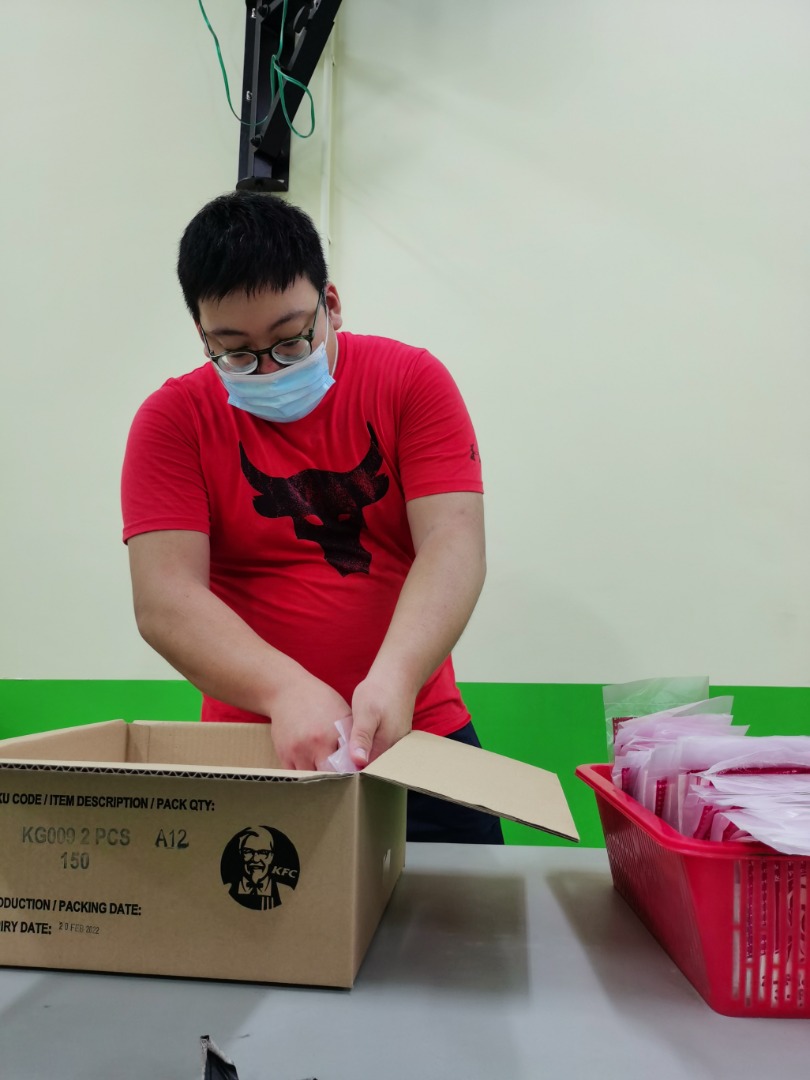 Kin Mun's mother shared their efforts along the way. They experienced traffic jam every morning, sacrificed sleep and rest time, transportation costs, work adjustments, worried that their child will skip work suddenly… Because of love, they choose to accompany their child to go through and face the challenge.
This story showed us the expectation of loving and caring of home. We encourage every parent to give their children opportunities to make a change and do it persistently. Last but not least, we wish Happy Parent's Day to all mothers and fathers!
Cerebral palsy is no hindrance to Yan Shuen success
Yan Shuen is a 27-year-old member with cerebral palsy.
She joined Lovely Disabled Home (LDH) in 2010. She is an enthusiastic individual who started her working career through a learning-working programme hosted by this home.
Her first training programme was the task to fold the newspaper.
Using her skill to open the newspaper with her hands, placing it on a wooden tray and folding it neatly was not just a task but training for people like her.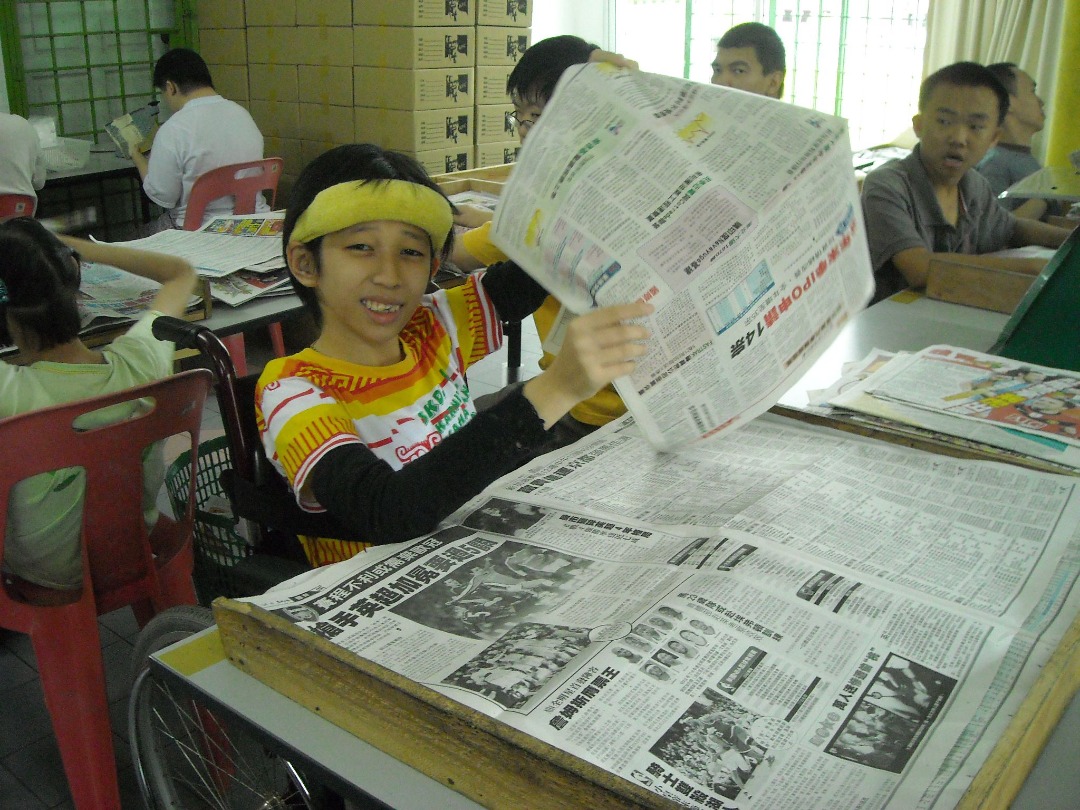 Next, in the second stage, she was taught how to clean the chilli sauce sachet.
It was a challenge for Yan Shuen because of her inflexible fingers.
To clean these sachets, she has to place them on a wet cloth and move her hands, up and down to create a swiping motion.
Under the watchful eyes of her teachers, who guided and encouraged her, she listened attentively to instructions to perform her task.
On June 2020, she moved to the third phase of the training, which is packing.
Her task was to place two chilli sauce sachets and a plastic spoon into a plastic bag containing tissue paper.
But she has difficulties putting these items inside the plastic bag without crumpling the tissue paper as she was unable to coordinate her inflexible fingers. At times, she left out one sachet.
That is not all. She also has problems placing the packed packages into a basket and stacked them neatly.
However, the teachers did not give up on Yan Shuen. They found ways to overcome these problems.
During the lockdown, Yan Shuen was unable to come to the workshop to work but that did not stop her mother, who has been accompanying her to the workplace, from carrying out the task at home.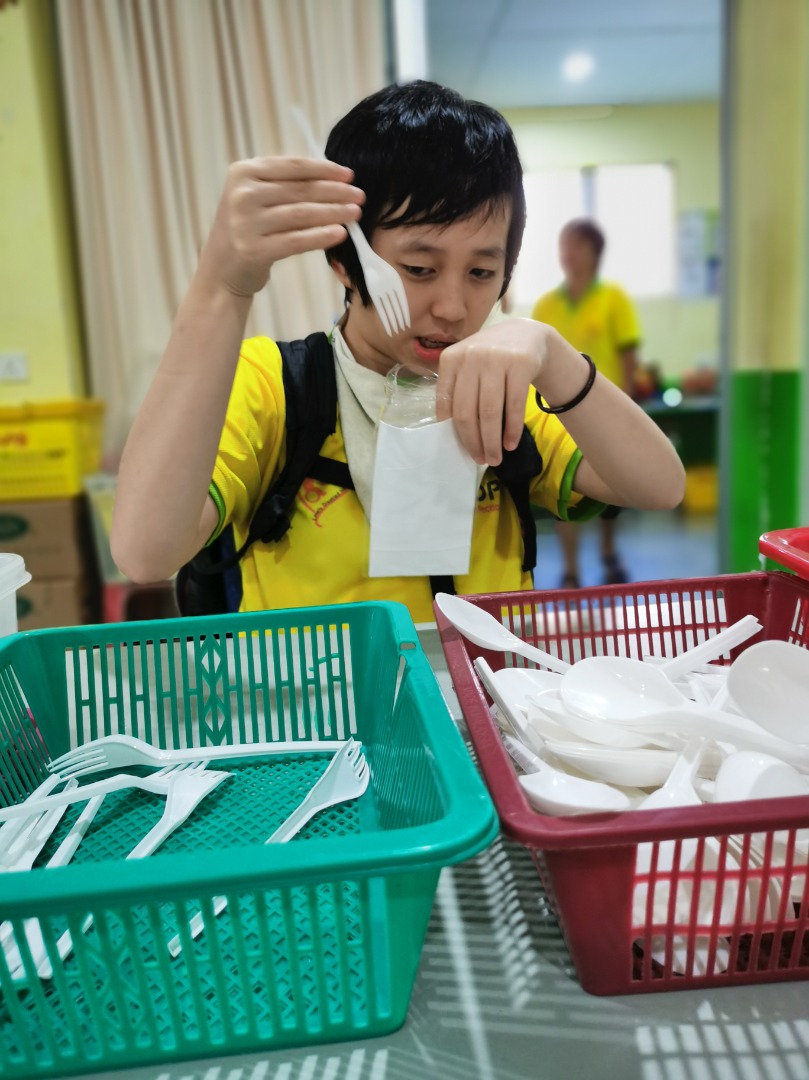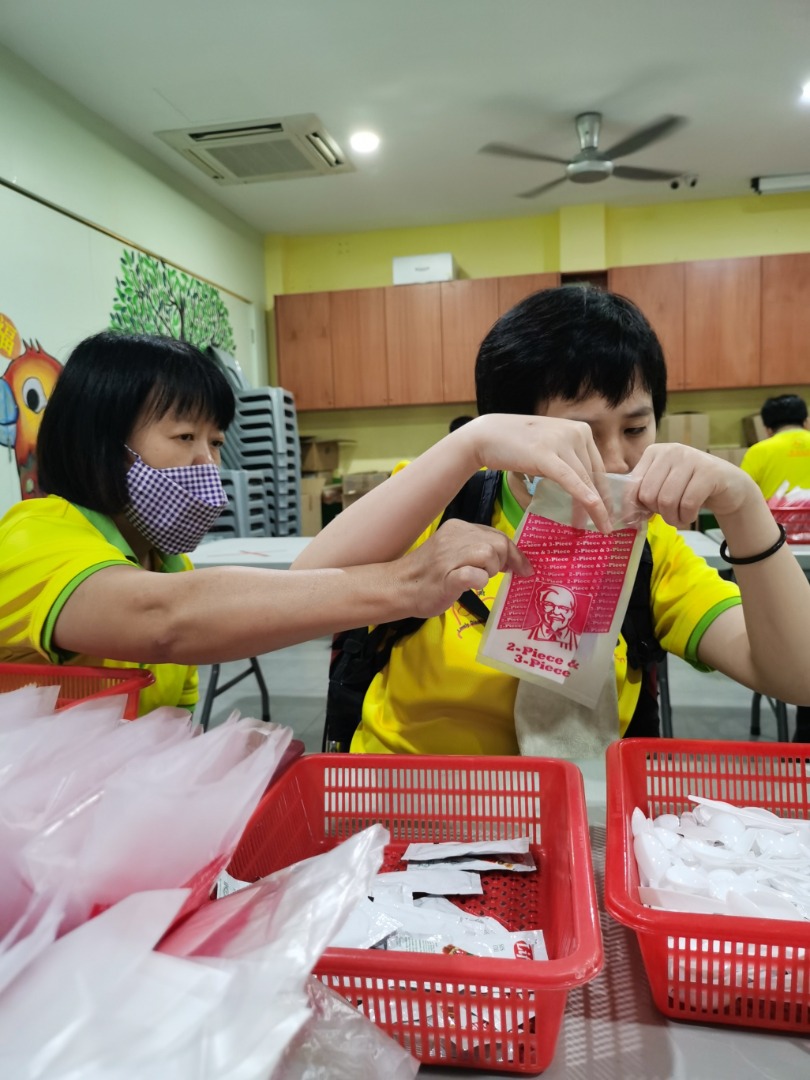 In March 2021, Yan Shuen finally succeeded in packing these items all by herself.
LDH provides different learning and training stages for these special individuals.
Working with these special needs individuals also see different strategies and methods being used to tailor individual needs.
Teacher Vivian, one of the teachers at the LDH workshop said, Yan Shuen is a stubborn child and by using gentle and soft approaches, they were able to work with her during the training.
At LDH, we are not only teaching them to complete their task but also providing them with the learning space to interact and socialising among them. The programme also teaches them proper sitting posture and guide them to overcome their temperaments.
Of course, the encouragement and cooperation among family members and teachers also play a big part in training these special individuals.
LDH also faces teaching and training challenges, especially in the teachers' perseverance and patience, deploying various strategies and methods, which led to its members' success.
LDH provides training and employment opportunities to special children and adults.
For more details, visit www.lovelydisabledhome.com or contact us at 03-7873 9622