My Christmas Dream 2022: Merry Christmas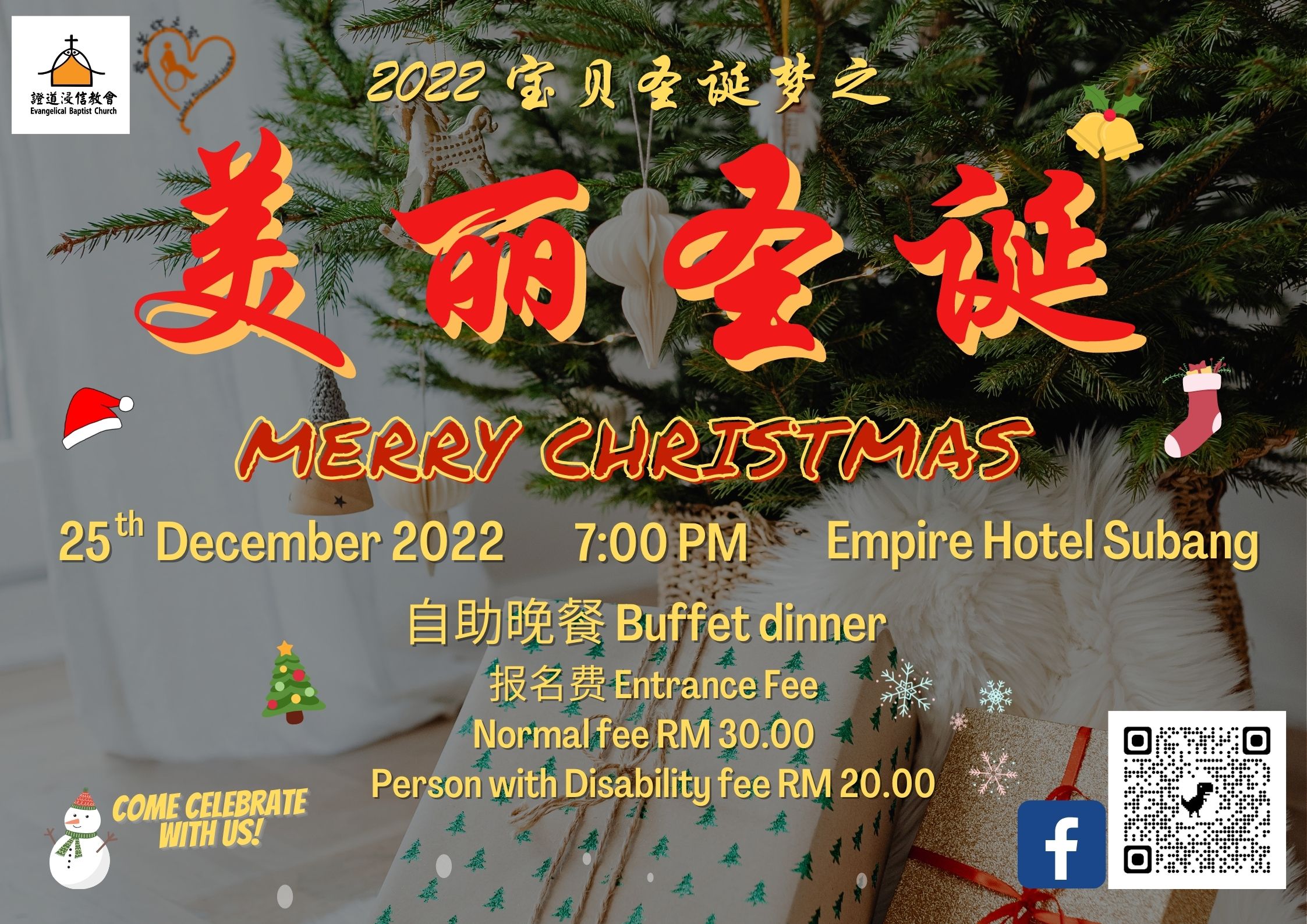 Event details:
Date: 25/12/2022
Time: 7 pm
Venue: Empire Subang Hotel
Fee: Normal ticket RM30, Persons with Disability (PwDs) RM20
In collaboration with Evangelical Baptist Church, Lovely Disabled Home will be organising our annual Christmas party to celebrate and share about the real meaning of Christmas with the public and our friends with disability, in this season of blessing.
Please come and join us for this meaningful event. You may register yourself and join as:-
Guest
Just sit back and enjoy the night! Do invite your friend and family to join us too!
Gift Sponsor
You may be a Santa to our angels (PwDs). Choose one angel from the wish list below and sponsor them their desired gift. Gift sponsor has to be there physically on actual day and present the gift to the PwD.
Click here to register: Registration Link
Note:
The gift value must NOT be more than RM200.00
Please make sure that the present is in NEW condition
The gift must be delivered to the Lovely Disabled Home workshop address below latest by 09/12/2022:
Receiver: Yan Ting
Address:J-G-01 Blok J Pusat Dagangan NZX Jalan PJU 1A/41B Ara Jaya PJU 1A, 47301 Petaling Jaya, Selangor.
Contact Number: 014-6559637
No 号码
Angels's Name 天使姓名
Wish 星愿
Ref. Image 参考图
Gift Sponsor 礼物赞助人
1
Albert Jaya Kumar A/L Manoharan

Running Shirt - Dryfit
Size: XL
Color: Blue

美兰

3
Chai Yee Min

Jeans
Size:27
Color:1056

贻浩

4
Chan Jian Cheng

Shoes
Size: UK 9
Color: Navy Blue

Lee Cha

5
Chan Wai Lok

Shoes
Size:44
Color:Black

Liew Yub Tsuey

6
Chia Kai Chung

Backpack
Color: Black

Annie Lim

7
Chia Kar Ying

Shoes
Size:39
Color: Yellow

Lee Kin Mun

8
Chong Yuen Seng

Polo T-shirt
Size:L
Color: Blue Grey

LEONG YIN KHEI (AnQii)

9
Chong Zu Wei
Sport Shoes
Size: UK 8 / US 9
Color: Black

Sharleen Lee

10
Chung Jing Yee

Cute Animal Succulent Pot

TEW GUAT HONG

12
Edmund Lau

Leather Bag
Color: Brown

ZION YAP

13
Elaine Choo Min Fei

Bag

LIM BEE CHIN

14
Eng Cherng Yuan

Nike Running Shirt - Dryfit
Size: XL
Color: Black

Lily Ng

15
Tew Huei Ru Evon



Two water Bottles
Color: two bottles as shown in picture

May Tee

16
Goh Su Sheng

Smart Watch
Color: Pink

Shawn Chiang Ting Hui

17
Hong Wei Zhong

Shoes
Size: UK 7
Color: Black

Vivian Fong

19
Javis Foo

Polo T-shirt
Size: M
Color: Orange

LEONG YIN KHEI (AnQii)

20
Jessica Yap

Backpack
Type: Hello Kitty
Color: Pink

Annie Lim

21
Jonathan Soong Neng Jie

Shoes
Size:39
Color: Black

美兰

22
Joyce Yap Zhi Yin

Shoes
Size:37 / UK 4 / US 5
Color: Black

24
Kok Ming Hua

Shoes
Size:43
Color: Blue

Wong Chen Yeong

26
Lara Annette Toh Yen Leng

Perfume

LEONG YIN KHEI (AnQii)

27
Lee Lian Kang

Safety Boots
Size:40
Color: Black

许英辉 Shu Ing Huei

28
Lee Yen Yen

Smart Watch
Color: Red

Lee Ai Li

29
Liew Chin Fatt

Power Bank
Type: Black + Type C
Color: Black

LEONG YIN KHEI (AnQii)

30
Liew Kwan Chun

Smart Watch
Color: Black

Lee

31
Lim Kah Yee
Backpack
Color: Pink

Ting Chu Kak

32
Lim Wei Xin

Luggage
Size: 26 inch
Color: Pink

Lee Kin Mun

33
Loo Khai Yian

Power Bank
Type: Black + Type C
Color: Black

LEONG YIN KHEI (AnQii)

34
Ng Tong Seong

Safety Boots
Size:44
Color: Grey

WONG SOOK MEI

35
Ngiam Wei Hock
Shoe
Color: Black

Ng Chiang Chuang

36
Ong Wai Kit

Smart Watch
Color: Green

JOE KEE

37
Phua Yan Shuen

Swimsuit
Size: XXL
Color: Black

Lee Kin Mun

39
Samantha Khoo Shin Ying

Smart Watch
Color: Black

Lee

40
Tan Yin Yin

Uniqlo Airism Cotton UV Protection Leggings
Size: XL
Color: Black

Juanita Loh

41
Tee Pei Kun

Safety Boots
Size:43
Color: Blue

David Choo

42
Teresa Chan Shit Yee

Long Sleeve Shirt
Size: M

Ashley chee

44
Wong Hong Sing

Shoes
Size:37
Color: Black & Blue

Ref Brand:
Bata - Power

Y Y Wong

45
Wong Wing Eng

Backpack
Color: Big Pink

Alex Wong

46
Yau Yee Cheng

Bear Plush Doll
Size: 100cm

LAM TOONG MOOI

47
Yee Chiun Wei
Stretchable Shorts
Size: 39
Color: Black

Mann

48
Yong Yee Ren

Polo Shirt
Size: M
Color: 23 Orange

LEONG YIN KHEI (AnQii)