Christmas Dream 2019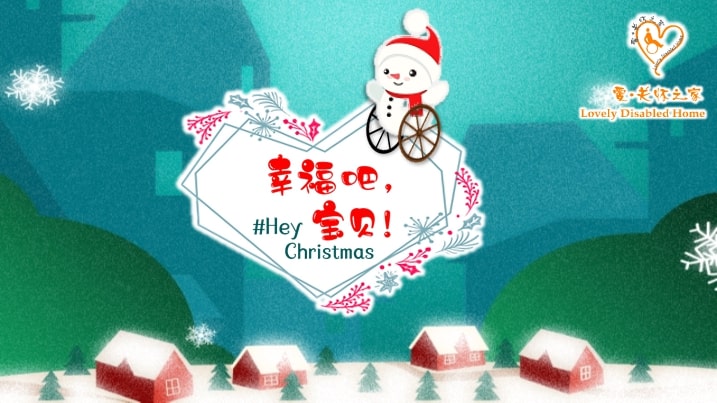 Christmas party for the Persons with Disability (PwD): #Hey Christmas!
Evangelistic Christmas Party
Event Details:
Date: 15 December 2019 (Sunday)
Time: 5pm
Venue: The Grand Hall, Taylor's Lakeside University
Fees: RM30/person
In collaboration with Evangelical Baptist Church, Lovely Disabled Home will be organising a Christmas party to celebrate and also to share about the real meaning of Christmas with the public and our friends with disability, in this season of blessing.
This Good News of the Kingdom will be preached in the whole world for a testimony to all the nations, and then the end will come. (Matthew 24:14)
Please come and join us for this meaningful event. You may register yourself and join as:-
Guest
-Just sit back and enjoy the night! Do invite your friend and family to join us too!
Gift Sponsor
-You may be a Santa to our angels (PWD), by sponsoring the gift as per their wish list. Gift sponsor has to be there physically on actual day, and present the gift to the PWD.
Registration Link: Link Here.
Note:
Present value must

NOT

more than RM150.00
Please make sure that the present is in

NEW

condition
Image is for reference only.
No 号码
Angels's Name 天使姓名
Sex 性别
Age 年龄
Wish 星愿
Ref. Image 参考图
Gift Sponsor 礼物赞助人
1
Phua Yan Shuen 潘彦娴
F 女
25
Black shoe without shoe lace
(Size: 37)

Jonathan Tan

2
Chong Zu Wei
M 男
18
Black Sport Shoe
Size: US 9 / UK 8 / EUR 42.5

Su Ting Ei / Christopher Yap

3
Lee Yen Yen
F 女
35
Black Sport Shoe without shoe lace
(Size: UK5 / 37)

Lee Yuen Peng

4
Eng Cherng Yuan 杨承渊
M 男
22
Denim Long Jeans
(Size: Waist 37)

Jacklyn

5
Samantha Khoo Shin Ying
邱芯莹
F 女
21
Perfume

Joy Lim

6
Wong Chang Wei
王长威
M 男
35
Watch
(Red / Blue)

Yoong Fei Chih

7
Lim Kah Yee
林嘉怡
F 女
27
Red colour backpack

Yvonne Yong Yuet Yew

8
Kenneth Liew Kam Loong
刘智明
M 男
19
Black Sport Shoe
(Size: US8 / UK6)

Koo Soo Siong

9
Kwan Yin Chun
关盈春
F 女
31
Black Shoe
(working purpose)
(Size: 37)

Eng Keck Ong

10
Lim Wei Xin
林暐欣
F 女
22
Pink colour sport shoes

(Size: 37)

Zannie Wong

11
Yau Yee Cheng
饶怡青
F 女
23
Sticker Book

Catherine Hong

12
Ngiam Wei Hock
严伟福
M 男
Black Shoe
(Size: 10)

Candy Woh Poh Then

13
Jessica Yap Mei Theng
F 女
39
Cream / White colour bag pack
(Normal / PC type)

Ma Aye Kyi

14
Liew Kwan Chun
刘君晋
M 男
Black Watch

Ng Seau Sze

15
Tew Huei Ru Evon
张僡娱
F 女
Water Bottle

Karen Ng

16
Eng Jun Yen
吴俊彦
M 男
27
Shoes
(any colour except black)
(Flexible, no shoe lace)
(Size: 40 / 250mm)

Lily Ng

17
Soo Hsiao Ting
苏筱婷
F 女
32
Dark Colour Backpack

James Wong Lee Yong

18
Ong Wai Kit
王维杰
M 男
17
Backpack
(any colour, no pink)
(Few Pocket)
(Light in weight)

Chong Soon Wei

19
Seow Tong En
萧彤恩
F 女
18
Light blue backpack
(small size)

Shirlin Voon Sze Yin

20
Lim Zi Ren
林自仁
M 男
24
Book
(mainly picture + Little words)
(English / Mandarin)

Tang Yap Meng

21
Beh Zi Yi 马子宜
F 女
19
Black Sport Shoes
(Tailor made)
(Please contact EVA 012-2183317 or event
PIC for more info)
NA

Eva

22
Chung Jing Yee 曾筠豫
F 女
23
Unicorn Pillow

Karine Ng

23
Lara Annette Toh Yen Leng
F 女
29
Perfume
(Flower Scent)

Ng Lay Ching

24
Liew Chin Fatt
刘进发
M 男
24
Power Bank

Jeff

25
Yee Chiun Wei
M 男
30
Lunch Box

Evon Lim

26
Yap Xin Yi
叶芯谊
F 女
13
Rubber / foam mat

Niki Tiew

27
Chong Kai Le
张凯乐
F 女
12
Pink sport shoes
(blink blink shiny shiny type)
(Size: 22cm with AFO)

Michelle

28
Chan Jian Cheng
陈健成
M 男
Red t-shirt
(Size: XL)

Lim Suet Leng

29
Tan Wei Hou
陈伟豪
M 男
Black t-shirt
(Size: L)

Sofia Ting Hieh Mee

30
Tee Pei Kun
郑培坤
M 男
Watch
(red and white digital watch)

Michelle Tan

31
Chai Yee Min
蔡义明
M 男
Jeans trousers
Size: 27 waist)

張美芳

32
Seow Hon Wai
萧汉伟
M 男
Shoes
(Size: 37)

張美萍

33
Kok Ming Hua
葛明华
M 男
Plain shirt
(Size:XL)

Michael Kong

34
Brandon Chan Zhi You
M 男
24
Original Apple lighting cable

Bee

35
Ong Pei Kwan (Jennifer)
翁佩君
F 女
37
Yellow T-shirt with pattern
(Size: L)

Shirley Chow Serh Ley

36
Geh Chuen Ching
倪俊清
F 女
41
20inch luggage, purple colour

Chong Yuk Hou

37
Anderson Lai Mun Hee
M 男
17
Black shoes
(Size: UK3 (22.5cm))

Jason Ong

38
Joyce Yap Zhi Yin
F 女
20
Pink sport shoes
(Size: UK5; EU37)

Tai Yin Ha

39
Lau Weng Yin
M 男
27
Basket Ball

Chong Xie Chow

40
Wong Hong Sing
M 男
33
Lion Dance VCD

Ivan

41
Set Wei Lun
M 男
Radio / CD player

Angeline Ng

42
Emmanuel Spykerman
M 男
Black backpack

Catrien Wong

43
Lee Len Khong
M 男
31
Black rubber/leather shoes
(EU38/EU39)

Kon Ming Hui

44
Wong Siing Piing
F 女
20
Number digital watch,
(Square with black & gold colour)

Guan Family

45
Edmond Choo Zhi Yuan
M 男
19
DVD player

Lim Keng Wah

46
Ian Khor
F 女
17
Pink sweater
(Size: S)

Olivia Yii Hui Hui

47
Chan Wai Lok
M 男
26
Red T-shirt
(Size: L)

Quah Gwaik Poh

48
Yuwaneshwar
F 女
32
Green colour watch with light effect

Vanessa Quah

49
Benjamin Tye Tuck Yin
M 男
23
Blue Cap

Yoong Fei Pink